Transitions of Motherhood is members of the Amazon Affiliate program and we may receive a commission from any purchases made by clicking links found on this page. These purchases allow us to continue to provide educational and product recommendations to support and empower your motherhood journey.
There is often little time to think about Postpartum recovery as a new mom as you worry about caring for your new infant. Often we overlook our own needs for the needs of our newborn. Not to mention we face a lot within ourselves as new moms from healing, getting quality sleep, and managing hormonal shifts. One great way to improve your postpartum recovery and support lactation is through postpartum tea and supplements.
Many postpartum tea options or herbal supplements are full of vitamins, minerals, antioxidants, and other beneficial compounds to support healing, repair, and mental support. In this article you will find:
What herbs are beneficial postpartum
Are herbs safe
best herbal teas for postpartum recovery
Table of Contents
Which Herbs Are Best for Recovery and Lactation Support Postpartum?
Magnolia Tea – Postpartum women who drank single ingredient magnolia tea for 3 weeks saw an improvement in sleep quality, decreased symptoms of depression, a decrease in fatigue.
Lavender Tea – Improves symptoms of fatigue, depression and maternal-infant attachment.
German Chamomile Tea– In this particular study postpartum women saw a significant improvement in sleep quality and postpartum depression when regularly drinking chamomile tea for 2 weeks.
Alfalfa – Is full of healing vitamins and minerals including calcium, iron, potassium, magnesium, vitamin E, Vitamin C, and Vitamin K (contributes to blood clotting and reduces risk of postpartum hemorrhage). Alfalfa also improves milk production.
Moringa – Has anti-inflammatory properties and is a galactagogue, which increases breast milk production. Moringa is rich in calcium, protein, potassium, iron, zinc, vitamin A, vitamin B, and vitamin C, which is essential for tissue repair and recovery.
Stinging Nettles – Are great for healing postpartum since it is full of vitamins and minerals that help with tissue repair. Stinging Nettles increase energy levels and improve milk production.
Fennel Seed – Can mimic estrogen which increases breast milk production and breast tissue development. Fennel seed can also improve your sleep quality, soothe digestive issues in moms and infants, and improve overall skin and hair health.
Red Raspberry Leaf – Helps strengthen uterus muscles and return uterus to pre-pregnancy size, increases breast milk production, improves mood and reduces postpartum depression symptoms.
Oat Straw – Can stop bleeding and promote healing as it is full of calcium, magnesium, iron, and B vitamins.
Are All Herbs Safe to Consume?
No, not all herbs are safe to consume while breastfeeding or postpartum. They can be potent and pass through breastmilk to your infant. It is important to consult with your lactation consultant and medical provider. There are still limited studies done on many herbal supplements safety and effectiveness. LactMed Database is also a good source to consult when making decisions about what you will consume postpartum.
There are several herbs that should be avoided postpartum or breastfeeding.
6 Best Postpartum Tea
Postpartum Tea for Recovery
Ingredients: Organic raspberry leaf, Organic oat straw, Organic dandelion leaf, Organic cinnamon chips, Organic turmeric root, All natural pear flavor
Relieves stress, promotes calmness, improves hormone balance, decreases inflammation, and tones uterus.
Pros: simple and sweet flavor, can use tea bags twice and still retain the flavor
Cons: A little pricier, best price is found at walmart.com
Ingredients: Organic licorice, Organic chamomile, Organic lemon verbena, Organic stinging nettle, Organic alfalfa, Organic motherwort, Organic red raspberry leaf, Organic lavender, Natural lime flavor
Supports mood level, aids in hormone health, strengthens uterus, improves sleep quality, and improves mental clarity and brain fog
Pros: lives up to claims of hormone and mood balance
Cons: Expensive
Ingredients: Organic cinnamon bark, Organic lady's mantle leaf, Organic red raspberry leaf, Organic stinging nettle leaf, Organic lemon balm leaf, Organic ginger root, Organic alfalfa leaf
Eases cramping postpartum and improves hormone balance
Pros: affordable, great for easing cramping, and a delicious taste
Cons: Individual packets can be difficult to open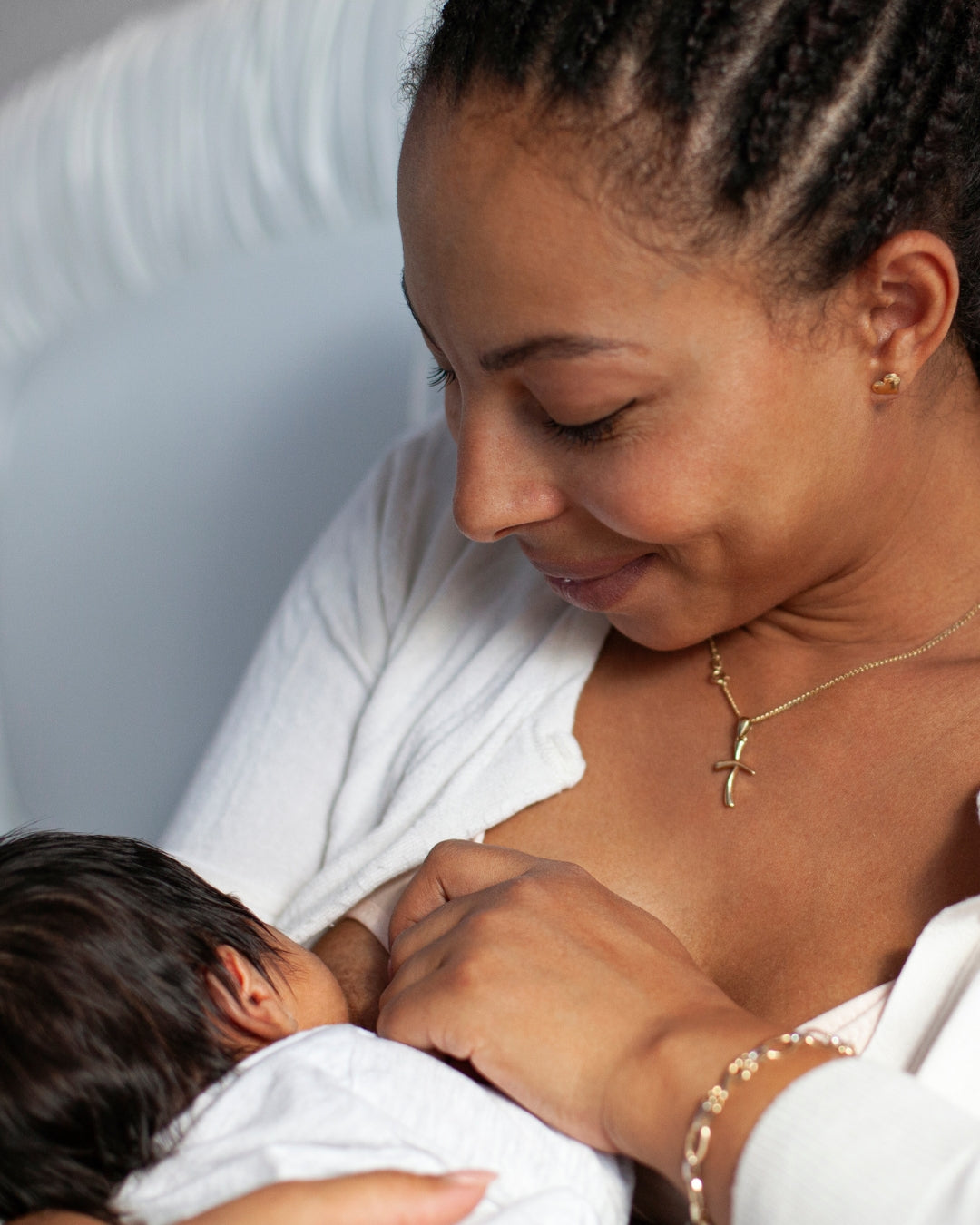 Ingredients: Lady's mantle, Raspberry leaf, Plantain leaf & herb, Yarrow flower, Shatavari root
Restores uterine muscle and tissue, tones muscle in womb and reduces bleeding, promotes healing skin, improves circulation in pelvic area which speeds up recovery, and reduces stress/anxiety and is a hormone regulator.
Pros: Affordable, tea bags are biodegradable and caffeine free.
Cons: UK produced brand may be more difficult to purchase in the US and shipping is more expensive.
Postpartum Tea for Lactation Support
Ingredients: Organic moringa oleifera lam leaves, Organic roasted brown rice, Unbleached biodegradable corn fiber tea bag.
Improves hydration and increases breast milk supply through galactagogue Maringa Leaf
Pros: Each tea bag can be used for 2-3 brews, simple ingredients
Cons: One major ingredient so focuses solely on breast milk production
Ingredients: Organic hibiscus flower, Organic fennel seed, Organic raspberrry leaf, Organic alfalfa, Organic nettle leaf, Natural blueberry and pomegranate flavors
Boost milk production with hints of fruity flavors
Pros: Comes in several flavors
Cons: Expensive
Ingredients: Fenugreek seed, Fennel seed, Red raspberry leaf, Stinging nettle leaf, Milk thistle seed, Orange peel, Anise seed, Caraway seed, Alfalfa leaf
Promotes breast milk production and healthy lactation, supports postpartum recovery as well
Pros: comes individually wrapped, improves production, great price
Cons: difficult to open individual bags, more plastic packaging than other products
Ingredients: Organic bitter fennel fruit, organic anise fruit, Organic coriander fruit, Organic fenugreek seed, Organic blessed thistle herb, Organic spearmint leaf, Organic west indiana lemongrass leaf, Organic lemon verbena leaf, Organic marshmallow root
Promotes breast milk production for nursing moms
Pros: affordable, sweet with licorice taste, easy to find in most stores
Cons: may not like it if you don't like licorice
Postpartum Herbal Supplement Drinks
Ingredients: Vitamin D, Calcium, Blessed thistle, Fennel seed, Fenugreek seed, Raspberry leaf powder
Promotes healthy breast milk production and improves production
Pros: easy to take on the go, mixes well with multiple beverages, affordable
Cons: only comes in a berry flavor
Ingredients: Organic coconut sugar, Organic natural flavors, Organic luo han guo fruit extract, Organic shatavari root powder, Organic nigella seed powder, Organic horseradish tree leaf powder, Organic milk thistle seed powder extract, Organic ashwagandha, Withania somnifera root and leaf extract, Organic ceylon cinnamon bark powder
Full of galactogogues (improves and increases breast milk), antioxidants that can prevent swollen breast tissue and clog ducts, support healthy stress cortisol levels and immune function
Pros: sweetened by natural fruit and coconut, and can add to any beverage
Cons: Expensive compared to herbal tea options
Conclusion
Before adding any herbal supplements to your diet speak with your medical provider about safety for you and your infant. Many herbs can interact with different medications and some can be passed through breastmilk. Herbal supplements can have some amazing benefits to improve your overall postpartum experience and speed up your recovery. They should be balanced with a healthy diet to improve your overall well being and breast milk production.
Jess is a registered nurse with over 6+ years of critical care experience for patients young and old and is the mother of two small children.  After having her own children she felt inspired to provide mothers with real actionable guidance and education to make informed decisions throughout their pregnancy and postpartum experience.